EARLY CHILDHOOD MUSIC
Kindermusik for ages 0-7 brings joy to both the parent and child. Each activity is based on research and designed for whole child learning. The fun and happiness we have in class is part of the community we are building together. Classes meet once a week in groups of up to 8 children, grouped by age, for 45 minutes. Basic concepts of music are emphasized. Activities include singing, rhythm games, improvised movement to music, playing timpani drums, xylophones, and many different kinds of rhythm instruments. The classroom is clean and healthy, and we ensure that participation will be safe for those involved.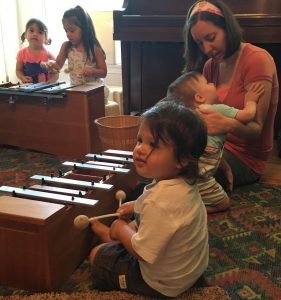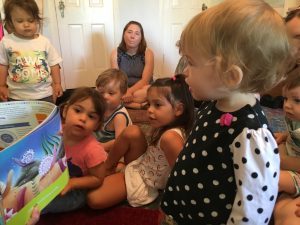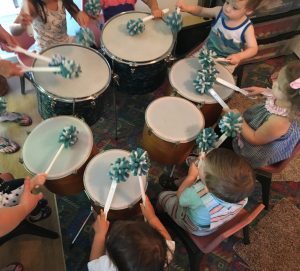 Developed in Europe, these joyful ways of bringing music to children and introducing them to music reading (both melodic and rhythmic) are being used throughout the western world. Students become well-prepared for future music study through these fun-filled programs. All classes combine methods of Orff, Kodaly, and Dalcroze.
The reason why Kindermusik classes are for the child and parent is because strengthening your bond with your child is one of our primary goals. You are your child's most important teacher. The home materials that are included in the lessons are digital so you can take them anywhere on your smart phone or pad. It is not homework, it is homeplay that includes the music and the stories from the lesson for your enjoyment as well as increased learning for your child.
Why begin musical instruction this early? Studies show that the first 5 years of a child's life are the most important for fully realizing his or her aptitude. Preschool General Music is the type of musical experience that will insure the development of the child's musical ability. Studies have revealed that this kind of early music education enhances other aspects of the child's life such as fine motor skills, language and emotional and social development.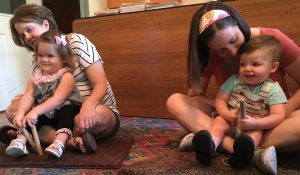 Family Music
These classes are a fun for the whole family with multiple children. This helps with working parents busy schedule and siblings succeed in learning from each other. Activities include age specific and for the whole family.
School Year 2019-2020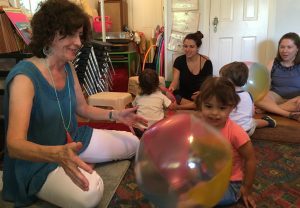 Tuition (17 classes per semester)
45 minute class: $66-monthly, $330 semester
Have a group of friends?
We'll make every effort to schedule a class for you!
Monday 10:30- 11:15 Wiggle and Grow ages 1-3