Violin, viola, cello, saxophone, clarinet, percussion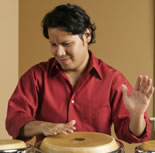 A native of Peru, Edgar Valenzuela is one of the most versatile young musicians in North Texas with activities that go from playing in symphonic orchestras to salsa, jazz and world music ensembles, both as a percussionist and as a violinist.
He was raised in a family of musicians, starting his formal musical education at the age of 6 under the tutelage of his father. At eight, he was admitted into the Josafat Roel Pineda Conservatory in Lima as a clarinetist. He eventually switched instruments graduating with honors in violin and music education.
His musical interests have led Edgar to perform in diverse music festivals in Latin America, Europe and the United States, with a mixture of classical, popular, traditional Latin American and Jazz. Some of these festivals include performances with well-known conductors and musicians, among them Abelardo Vasquez, Alex Acuña, Vinnie Colaiuta, Eduard Melkus, and Gustavo Dudamel.
Since 2001 Edgar has been a resident of Fort Worth, where he is a member of the Latin Jazz trio Lunazul and director of the band Mambo Machine. Some of his most recent activities include a solo performance with the New Irving Philharmonic Orchestra as percussionist and arranger, and a performance, as a violinist, for the Van Cliburn Foundation in a concert series dedicated to Tango music. His immediate future projects include a tour as a percussionist for Phil Collins and a series of concerts and recordings as a member of Caminos del Inka , an ensemble dedicated to promote Latin American music, directed and organized by Maestro Miguel Harth-Bedoya.
Edgar is currently finishing graduate studies on violin with Martha Walvoord at the University of Texas at Arlington and takes conducting lessons with Sergio Espinosa, David Itkin and Miguel Harth-Bedoya. As an educator, Edgar has worked with the Fort Worth ISD as well as many other music schools in the DFW area.
Edgar Valenzuela is endorsed by Atempo Percussion.